Quality
In the past 14 years, Ignacio González Montes has paid special attention to improving the quality of its products. To achieve this goal, significant investments were made in its Quality Department.
The company has succeeded in forming a duly qualified team that allows it to control at any time, every step of the production process. In addition, the company has worked hard to create and enhance their own laboratory.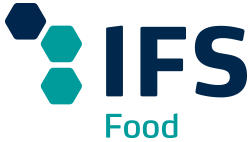 In compliance with current legislation, HACCP or HACCP system has been established in the company since 1999, when it was certified to ISO 9002:1994 and received the ISO 9001 recertification: 2.000 in January 2004..
Since 2011 to 2014we had the ISO 22,000: 200 certification.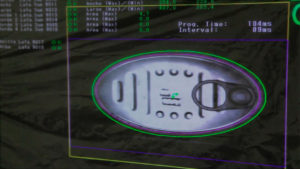 Currently and since 2015 we have the IFS certification, based on high level requirements regarding food quality and safety.
Since 2019 we also have the MSC and FOS certifications, certifications based on the standards for sustainable fishing and traceability of sustainable fishery products.
Some of our products also have a BIO / ECOLOGICAL certification.
QUALITY POLICY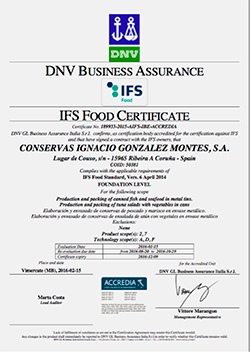 Ignacio González Montes, has been developing for over half a century canned fish and shellfish with their traditional sauces.
In the recent years, our factories have been updated with advanced technology and media. Thus, the business´s management, middle management and in general all staff feels part of the new proposals and procedures, as well as subsequent maintenance and improvement, being in this case the policy of the Company, the empower all possible means to them to ensure maximum integration and professionalization of human resources, in turn providing everything necessary to achieve the Quality Policy.
In this sense, all the actions carried out by the company will be directed towards continuous improvement with the following commitments:
The planning, implementation and evaluation of our Quality System are made to serve our customers always right the first time, which means:
Meet the deadlines set
Meet customer requirements ensuring a product that meets your expectations
Maintain a constant and fluid communication with our suppliers and customers that enable continuous improvement.
Continuous Improvement in our work processes must ensure the permanence of the company in the market, and therefore the Quality Management System implemented has to walk to achieve total customer satisfaction, optimizing resources of our company and thus ensuring the competitiveness.
For this purpose, we have implemented at all levels of the organization, the System Quality Management according to IFS January 2016 standard described in the Quality Manual.